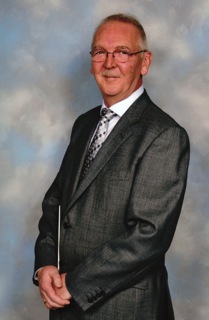 David Newman to retire as Musical Director of Hathern Band
Nov. 25, 2018
Hathern Band has announced that David Newman is to step down as their Musical Director. David said:
"I am told that next year will be my 40th with Hathern Band. It is with that in mind that my thoughts turn to the future.
I believe that the Band needs fresh inspiration and to this end I have informed the Committee of my intention to retire from the Senior Band and have given 12 months' notice. I hope to advise and help with my successor, I have said 12 months, although if the right person is found in the near future, we need not wait the whole year.
I am honored to be the President of Hathern Band and will not be going anywhere. I am even thinking about playing again! so I will still be around."
David's commitment to Hathern Band has been outstanding over what we believe could be a record of a 40-year directorship. He took on a struggling 4th Section Band and built, guided and directed the band taking them through to where they are today in the Championship Section.
David was one of the master minds with the setting up of our fantastic Youth & Training Bands, spending many hours teaching to ensure the future of the band. David's dedication, work and commitment to Hathern Band has been absolutely outstanding and we can't thank him enough for everything he has done, and I am sure will continue to do, for the Band.
David will stay on as Conductor of the Training and Youth Bands, something he loves, where he will continue as he has done for many years, to teach and mentor young talent, a number of his pupils are already making their mark in the Senior Band.
- Lesley Bentley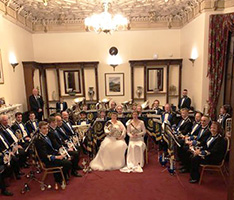 Congratulations
Nov. 3, 2018
Congratulations Sam and Hannah Peak! you both looked lovely and thank you for letting Hathern Band be part of your special day.
Lots of love from us all xxx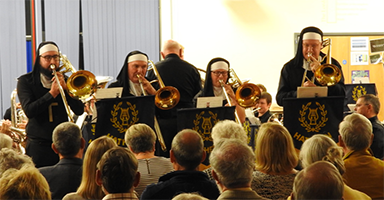 Newsletter Autumn 2018
Oct. 23, 2018
Our autumn newsletter is now available: click here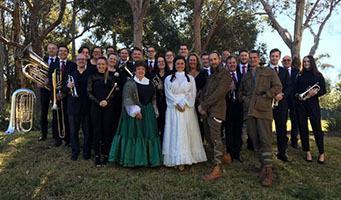 Visit from Footscray-Yarraville City Band
Oct. 2, 2018
As first announced in our Spring newsletter, Hathern Band will be hosting the Footscray-Yarraville City Band in November as part of their Silent Anzac tour of western Europe.
Inspired by an inscription on a WW1-era bass drum made by bandsmen who fought in the Great War, the Footscray-Yarraville City Band will be visiting places in France and Belgium where Australian servicemen fought and died, followed by performances in London, Durham, York and the LBBA contest.
The Silent ANZAC follows four archetypal characters, The Mother, The Soldier, The Girl and The Poet face their sternest test during the dark days of the First World War. Will their courage, resolution and faith stand the test of war and bring them through the conflict? A story of loss, sorrow and, ultimately, the forging of a legend.
The show depicts events from the opening of the Gallipoli campaign to the final months and represents the experiences of many of our WW1 soldiers and their families. The specially commissioned major work The Silent ANZAC recounts the exploits of the Australian submarine HMAS AE2.
You can contribute to Footscray-Yarraville City Band's tour fundraising by dedicating a poppy to be laid at the Australian National Memorial, Villers Bretoneux, France, on 8th November 2018, by making a general donation on their donations page, or by buying their tour CD.
The Silent

ANZAC

– Remembrance Day Performance, Sunday 11th November, 2:00 pm – 5:00 pm, Exhibition Hall, Australia House, London. Tickets available at eventbright
The Silent

ANZAC

, Monday 12th November, 2:00 pm – 3:00pm, Southwark Cathedral, London
Join concert with Durham University Brass Band, Thursday 15th November, 7pm. Tickets at Music Durham
Joint concert with York Railway Institute Band, Friday November 16th, 7:30 pm – 9:30 pm, The Chapel, York St John's University, York. Tickets available at eventbright
Patrons Evening
Sept. 28, 2018
Lesley receiving the 2018 Bandsman of the Year award from Musical Director David Newman.