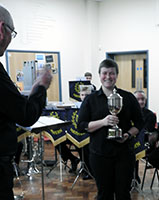 Patrons Evening
Sept. 23, 2018
The annual concert for patrons of Hathern Band was held at Hathern Community Centre on the 23rd September. Patrons support the band financially and the concert (plus an excellent supper) is a way of saying thank you to them.
The concert is also an opportunity to try out some pieces "on friends" to get practice before they become part of the band's repertoire.
The Concert started with the March Great Little Army followed by For the love of a Princess – featuring the beautiful playing of Mike Wood on Flugel Horn. David Newman and the band thanked Mike for his service of over 20 years on the Principal Cornet seat.
The Bands new Principal Cornet player Dru Sparks did a brilliant job playing the very demanding solo in Mission Impossible and this was followed by a very difficult arrangement of Star Wars, arranged by the Bands bass trombone player, Joe Southgate.
The Trouble with the Tuba is….no trouble for Eb tuba player James Kerfoot, with a fine performance of this very difficult solo.
I will Follow him – what can I say about this … it was performed by the trombone section – Simon Baum, Tom Dyer Hill, John Baum and Joe Southgate dressed in nun's outfits! brilliant entertainment and they looked the part!!
To complete the music entertainment for the evening Spitfire Fugue, Calling Cornwall and Reunion and Finale from Gettysburg.
Patrons' Evening is also an opportunity for awards to be made. The Bandsman of the Year is chosen by musical director David Newman and presented, not only on musical ability but also for their commitment and work for the band. Repiano cornet player Lesley Bentley received the award for 2018. Players' Player of the Year is chosen by all the band members and was presented to the bands new Solo Euphonium player Hannah Peak.
David Newman said that the band had never played better, and with talented youngsters coming through, the band is on course to be successful for many years to come. The band doesn't have a sponsor, so the support of patrons who contribute a minimum of £25 a year is crucial.
If you would like to keep in touch with the band and receive the band newsletter which is published quarterly, please email Dave Neville at daveneville1947@gmail.com
For information on players/engagements/booking the band please contact the Secretary – Lesley Bentley at lesley.bentley@dsl.pipex.com
(Photo shows Hannah Peak receiving the Players' Player Trophy for 2018)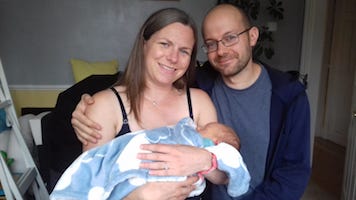 IT'S A BOY!!
Aug. 25, 2018
Congratulations to Susan and Dale on the birth of their lovely little cornet player – DYLAN.
Born on Saturday 25th August 2018 at 6.55 p.m. and weighing 7lb 15 oz
Congratulations from us all x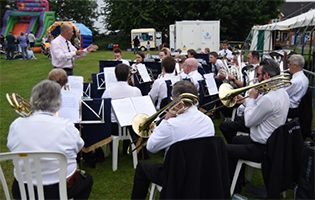 Newsletter Summer 2018
July 29, 2018
Our summer newsletter is now available: click here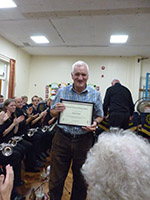 Stuart Evans
June 26, 2018
It is with great sadness that I have to tell you of the sudden death on Tuesday 26th June 2018 of Stuart Evans.
For those of you who don't know Stuarts full banding history with Hathern, he joined in the mid 1950's as a very young boy (there are some lovely photo's of him on the band room wall). He was part of the 1969 Band who qualified for the National Finals in London, part of the 1984 Band who qualified for the National Finals in London, this time playing at the Royal Albert Hall, through to being part of the Hathern Band who won the 2nd Section National Finals in Harrogate in 2004. He was a big part of the Bands success from the mid 1990's in their rise from the 4th Section through to the Championship Section. Stuart was a very fine baritone and after taking a short break from playing returned to playing in our Concert Brass.
With a dry sense of humor and a ready wit, Stuart was never short of a quick line to make us all laugh.
Rest in peace Stuart, we'll all miss you very much.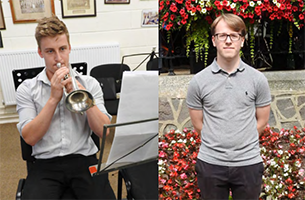 CONGRATULATIONS
June 22, 2018
We have some very clever players in Hathern Band!
Congratulations to Dru Sparks on getting a 1st Class Honours Degree in Mechanical Engineering from the University of Coventry
Congratulations to Tom Dyer Hill on getting a 1st Class Honours Degree in Chemistry from Queen Mary University in London.
Congratulations from us all!